Books
The Gold Eaters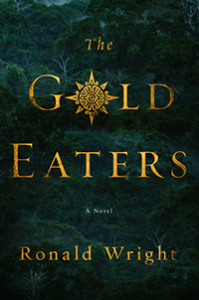 Kidnapped at sea by conquistadors seeking the golden land of Peru, young Waman is the everyman thrown into extraordinary circumstances. Forced to become Francisco Pizarro's translator, he finds himself caught up in one of history's great clashes of civilizations, the Spanish overthrow of the Inca Empire in the 1530s. To survive this ordeal he must not only learn to play a many-sided game but also decide who he truly is. Only then can he find the love of his life and begin the search for his shattered family.
Based closely on real events, this is a grand, propulsive adventure of greed, blood, and betrayal. Yet it is also the powerful story of Waman's journey through tumult and upheaval. Drawing on Wright's imaginative skill as a novelist and deep knowledge of South America, The Gold Eaters brings alive an epic struggle that -as Adam Smith and Karl Marx both noted -laid the foundations of our modern world.
Henderson's Spear: A Novel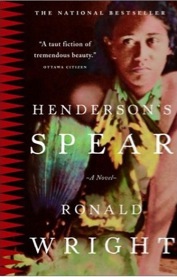 Liv, a Canadian filmmaker, is writing from a Tahitian jail, piecing together her troubled past and her family's buried history for the unknown daughter she gave up at birth. The search for her father, a pilot missing since the Korean War, has brought her to the Polynesian islands in the South Seas and landed her behind bars on a trumped-up murder charge. In the stillness of her cell, Liv ponders the secret journal of her ancestor Frank Henderson, who came to these same waters a century before on an extraordinary three-year voyage with Queen Victoria's grandsons—Prince George (later George V) and his elder brother, Prince Eddy, who would die young and disgraced.
Through unforgettable characters, a mesmerizing story, and a deep understanding of the landscape and culture of the South Seas, Henderson's Spear explores the patterns of history and the accidents of love.
A Scientific Romance: A Novel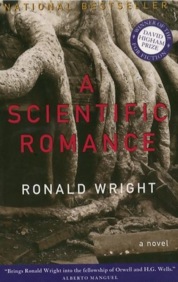 It is 1999, and David Lambert, jilted lover and museum curator, is about to discover the startling news of the return of H. G. Wells' time machine to London. Motivated by a host of unanswered questions and innate curiosity, Lambert propels himself deep into the next millennium. As he sets foot in the luxuriant but menacing new landscape, he soon begins to explore the ruins of his life, a labyrinth of erotic obsession and remorse involving his old friend Bird, and Anita—the beautiful, eccentric Egyptologist they both loved, mysteriously dead at thirty-two. A Scientific Romance is a book of surpassing creativity and intelligence, as evocative as it is cautionary.
A Short History of Progress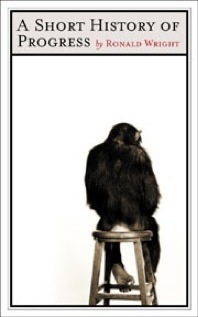 Each time history repeats itself, so it's said, the price goes up. The twentieth century was a time of runaway growth in human population, consumption, and technology, placing a colossal load on all natural systems, especially earth, air, and water—the very elements of life.
The most urgent questions of the twenty-first century are: where will this growth lead? can it be consolidated or sustained? and what kind of world is our present bequeathing to our future?
In A Short History of Progress –based on his acclaimed 2004 Massey Lectures — Ronald Wright argues that our modern predicament is as old as civilization, a 10,000-year experiment we have unleashed but seldom controlled. Only by understanding the patterns of triumph and disaster that humanity has repeated around the world since the Stone Age can we recognize the experiment's inherent dangers, and, with luck and wisdom, shape its outcome.
Stolen Continents: Conquest and Resistance in the Americas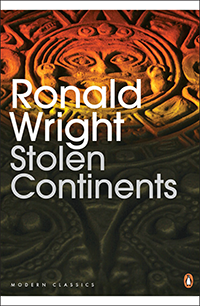 An international bestseller, Stolen Continents is a history of the Americas unlike any other. This fascinating volume chronicles the conquest and survival of five great American cultures—in their own words. Ronald Wright give voice to the Aztec, Maya, Inca, Cherokee, and Iroquois, quoting their authentic speech and writing and illuminating their strange, tragic experience—including, in a new afterward, incidents that bring us into the twenty-first century. Covering the more than five hundred years since Europeans first set foot in the New World, Wright weaves contemporary accounts with his own incisive historical narrative to created an indispensable record, on that is powerful, vivid, and accurate.
Time Among the Maya: Travels in Belize, Guatemala, and Mexico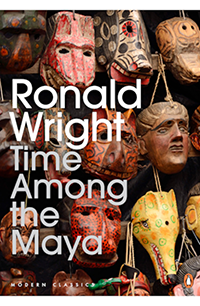 The Maya of Central America have been called the Greeks of the New World. In the first millennium A.D., they created the intellectually and artistically advanced civilization of the Americas. Throughout the ensuing centuries, as neighbouring empires fell in warfare and to the Spanish invasion, the Maya endured, shaken but never destroyed.
In Time Among the Maya, Ronald Wright's journey takes him not only to the land of the Maya, but also among the five million people who speak Maya languages and preserve a Mayan identity today. His travels begin in tiny Belize, exploring the jungles and mountains of Guatemala, bloodstained by civil war, and end in Mexico's Yucatán Peninsula. Embracing history, politics, anthropology, and literature, this book is both a fascinating travel memoir and the study of a civilization.
Cut Stones and Crossroads: A Journey in Peru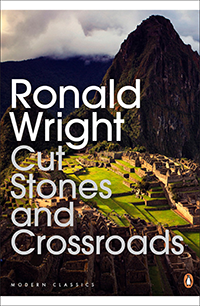 Travelling through Peru, tracing the history of the Incas from their royal cities of Cusco and Machu Picchu to their mythical origin in Lake Titicaca, Ronald Wright explores a country of contrasts—between Spanish and Indian, past and present, coastal desert and mountainous interior.
In his highly entertaining and perceptive account, Wright brings to life a complex culture, a land of ancient traditions seeking its place in the modern world. Embracing history, politics, anthropology and literature, Cut Stones and Crossroads is both a fascinating travel memoir and the study of a civilization by a writer who has won international awards as both a novelist and historian.
What is America? A Short History of the New World Order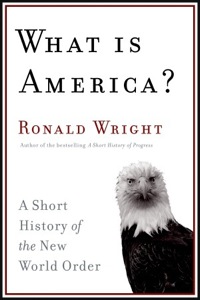 From the award-winning, #1 bestselling author of A Short History of Progress comes another surprising, frightening and essential book.
The United States is now the world's lone superpower, whose deeds could make or break this century. For better and worse, America has Americanized the world. How, in a mere two centuries, did a marginal frontier society become the de facto ruler of the world? Why do America's great achievements in democracy, prosperity, and civil rights often seem threatened by forces within itself?
What Is America? shows how this came to pass; how the United States, which regards itself as the most modern country on earth, is also deeply archaic, a stronghold not only of religious fundamentalism but of "modern" beliefs in limitless progress and a universal mission that have fallen under suspicion elsewhere in the west, a rethinking driven by two World Wars and the reckless looting of our planet.
What Is America? peels away historical myths to show how a legacy of conquest -from the old Indian wars to the wars of today -has shaped the modern world.
On Fiji Islands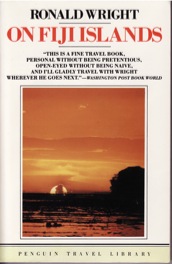 As Ronald Wright observes, societies that do not eat people are fascinated by those that do—or did. Known for years as the "Cannibal Islands", the Fiji Islands are now an archipelago of cultures that flourish despite the invasion of colonizers and the modern world. A gifted writer—acutely observant, witty, and eclectic—Wright explores the exotic islands and the reasons for Fiji's success.
Home and Away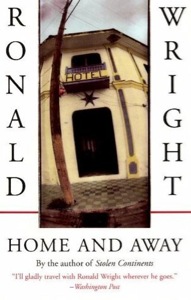 The first major collection of travel pieces from the bestselling author of Stolen Continents reveals the world to us—from Belize to Egypt—in all its comedy, strangeness and humanity. Home and Away is a marvellous mix of adventure and observation, antique civilizations, contemporary politics and irresistible storytelling.