Cut Stones and Crossroads: A Journey in Peru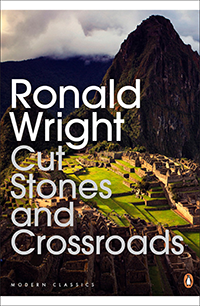 With an introduction by Alberto Manguel
& a new afterword by the author
Travelling through Peru, tracing the history of the Incas from their royal cities of Cusco and Machu Picchu to their mythic origin in Lake Titicaca, Ronald Wright explores a country of contrasts—between Spanish and Indigenous, past and present, coastal desert and mountainous interior.
In his highly entertaining and perceptive account, Wright brings to life a complex culture, a land of ancient traditions seeking 
its place in the modern world. Embracing history, politics, anthropology, and literature, Cut Stones and Crossroads is a fascinating travel memoir and the study of a civilization by a writer who has won international awards as both a novelist and a historian.
Honours
A New York Times Notable Book
Editor's Choice:  Christian Science Monitor
Reviews
"There is so much to praise about this excellent book."
Washington Post
"Ronald Wright is a superb travel writer with a vivid historical imagination… [He] describes 'the two worlds of Peru' with vigour, enthusiasm, affection and a sad, controlled anger."
Dervla Murphy, Times Literary Supplement
"Wright is an acute and indefatigable observer, bound to be compared with Peter Matthiessen and Paul Theroux."
Los Angeles Times
"A model of informed and enthralling travel writing…There will be few better books about Peru."
John Keay, The Listener
"Wright expertly outlines the politics and culture of a nation struggling to come to terms with the abrupt collapse of one world and the fitful emergence of the next."
Globe & Mail
"A marvelous mixture of science and color reporting, antiquities and contemporary politics."
Christian Science Monitor
Publisher:  Penguin USA, UK, Canada