Time Among the Maya: Travels in Belize, Guatemala, and Mexico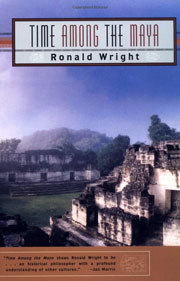 The Maya of Central America have been called the Greeks of the New World. In the first millennium A.D., they created the intellectually and artistically advanced civilization of the Americas. Throughout the ensuing centuries, as neighbouring empires fell in warfare and to the Spanish invasion, the Maya endured, shaken but never destroyed.
In Time Among the Maya, Ronald Wright's journey takes him not only to the land of the Maya, but also among the five million people who speak Maya languages and preserve a Mayan identity today. His travels begin in tiny Belize, exploring the jungles and mountains of Guatemala, bloodstained by civil war, and end in Mexico's Yucatán Peninsula. Embracing history, politics, anthropology, and literature, this book is both a fascinating travel memoir and the study of a civilization.
Honours
A Trillium Book Award winner.
Reviews
"Time Among the Maya shows Ronald Wright to be . . . an historical philosopher with a profound understanding of other cultures."
Jan Morris
"Wright's unpretentious narrative blends anthropology, archaeology, history, and politics with his own entertaining excursions and encounters, and . . . teaches us a lot about the way a culture endures."
The New Yorker
"Marking his time with the ancient Mayan calendar, a travel writer explores the ruins and villages of Belize, Guatemala and Mexico's Yucatan Peninsula. He 'weaves strands of popular anthropology, Guatemala's politics of menace and odd encounters with half-assimilated Indians as though he were creating his own serape…'"
The New York Times, New and Noteworthy
Format: Paperback, 464 pages
Publisher: Penguin Canada
ISBN-10: 0-805-01470-5
ISBN-13: 978-0-143-05437-5