A Scientific Romance: A Novel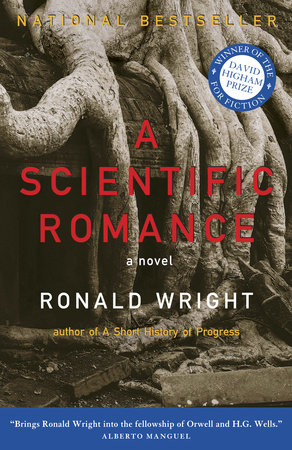 It is 1999, and David Lambert, jilted lover and reluctant museum curator, is about to discover the startling news of the return of H. G. Wells's time machine to London.
Driven by a host of unanswered questions and innate curiosity, Lambert propels himself deep into the new millennium. As he sets foot in the luxuriant but menacing new landscape, he also explores the ruins of his life, a labyrinth of erotic obsession and remorse involving his old friend Bird —jazz musician, classicist, small-time crook —and Anita, the beautiful, eccentric Egyptologist they both loved, mysteriously dead at thirty-two.
Personal and universal, witty and elegiac, David's odyssey through conscience and civilization builds to an unforgettable indictment of human arrogance in the tradition of George Orwell, Aldous Huxley, and the great 'scientific romances' of H.G. Wells.
Honours
David Higham Prize (UK)
Editor's Choice: New York Times
A Book of the Year: Globe and Mail
A Book of the Year: Sunday Times
A Book of the Year: New York Times
Reviews
"An elegant novel…gripping and lyrical; you struggle to slow down but find yourself rushing forward."
The New Yorker
"A triumph… J.G. Ballard explored this same territory in his disaster novels…but never with Wright's psychological insight or pathos."
Publishers Weekly (starred review)

"The most apocalyptic dystopia since Russell Hoban's Riddley Walker, achieving the same eerie fascination and consistent believability… In 100 years' time this book should be a classic."
Tom Shakespeare, Guardian
"Pure pleasure… deeply seductive and brilliantly sustained… A compelling cultural satire."
Julie Myerson, Observer
"Powerful…cunningly fashioned… The novel works on all levels [and] its flair for description can be positively Dickensian. The result is a fresh take on an old formula—the dystopian post-apocalypse novel—and a profound meditation on the nature of time."
John Vernon, New York Times Book Review
"Not since Nabokov's Ada have we had a serious fiction so obsessed with the plural possibilities of time…. In its haunting sense of opportunity squandered, of being witness at the fall of the world, of love and friendship attempting to cheat time, of time itself as a river down which we drift, it is like no other novel I have read, written in a prose at once highly flexible, muscular, lyrical…. A Scientific Romance is a disturbing and very moving book…a work of great beauty built on nightmare."
Anthony Weller, Boston Book Review
"Wright has come up with a treasure, a delightfully witty and suspenseful fantasy — in the rip-roaring tradition of the masters."
Alberto Manguel, Globe and Mail
"A chilling portrait [which] brings home very convincingly the fragility of human civilization and the smallness of our place in nature's scheme of things."
Nino Ricci, Shift
"There is teeming life on every page of this remarkable novel… Themes are brilliantly adduced… Absorbing, dynamic, intricately clever."
Rachelle Thackray, Independent on Sunday
"A powerful visionary core… few writers have imagined the future with such compelling and tragic urgency."
Maclean's
"[A] virtuoso performance, an audacious leap into the unknown… This is an extraordinary novel, a brilliant synthesis of interpretive and imaginative elements, and, like the best fiction, a trenchant commentary on reality."
Financial Post
"Dazzling… A Scientific Romance [is] poetic, sexy, satirical… layered with rich bits from the author's well-stocked mind."
Globe and Mail
"A magnificent achievement."
New Zealand Herald  
"A clever and elegant novel."
Philip Hensher, Sunday Mail

"Keeps the reader hooked… An accomplished performance."
John Sutherland, Independent
"Ambitious and entertaining… a heady mix of love story, prediction, satire and lyrical adventure."
Sunday Times
"Compelling…. Clearly there is a powerful environmentalist message to the novel, but Wright has constructed a narrative strong enough to carry it without strain…. [His] description of a deserted London overgrown with tropical vegetation is unforgettable."
Philip Marchand, Toronto Star
"Haunting and troubling… Wright has written a tale of great suspense and insight.  Here is a novel to remind us of our responsibilities to one another and our planet."
Ron Charles, Christian Science Monitor
Publishers in English: Picador USA; Knopf Canada; Anchor (UK & Australia)
Translations: French, German, Polish, Croatian.