Time Among the Maya: Travels in Belize, Guatemala, and Mexico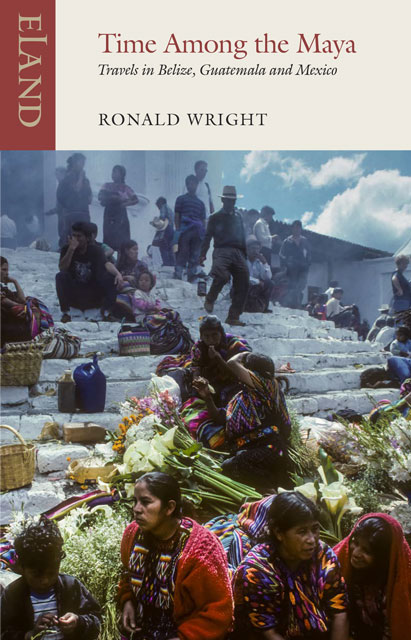 With an introduction by Pico Iyer
& a new afterword by the author
The Maya of Central America are often called the Greeks of the New World. In the
 first millennium AD, they created one of the world's greatest civilizations, renowned for 
its art, astronomy, mathematics, and deep fascination with the mystery of time. Despite internal collapse in the ninth century, Spanish invasion in the sixteenth, and recent civil wars, seven million people still speak Mayan languages and maintain their resilient culture today.
In the critically acclaimed Time Among the Maya, Ronald Wright travels through the jungles and mountains of Guatemala, Belize, and Mexico to explore the ancient roots of the Maya and their prospects for survival in dangerous times. Rich with historical insight and cultural observation, this is a riveting and unforgettable journey.
Honours
A Trillium Book Award winner.
Reviews
"Outstanding…Wright draws on his experience to make the old Maya as real as the new Guatemalans and it is all delivered with great style."
Roger Clarke, The Sunday Times
"There is a short litany of first-class travel writers –Bruce Chatwin, Jan Morris, Paul Theroux –to which you may add Ronald Wright."
Patricia Rolfe, The Bulletin 
"Wright has a marvellous eye for visual detail [and] a scriptwriter's ear for dialogue…Behind the fun and frivolity of Wright's travelogue is an attempt to read the Maya mind, and a deeply felt anxiety about how the Maya will fare in a world governed by values which are alien and hostile to their own."
Warwick Bray, The Times Literary Supplement
"A brilliant, highly engaging travelogue, sparkling with wit, incisive observation and sheer good writing…Wright is the ideal travelling companion"
Paul William Roberts, Toronto Star
 "Mr. Wright's narrative blends anthropology, archaeology, history, and politics with his own entertaining excursions and encounters, and, without any visible didactic effort, he teaches us a lot about the ways that a culture endures."
The New Yorker
 "Lyrical, tragic, uplifting, and ultimately magic."
Steve Silk, Hartford Courant
 "Wright blends rich personal reminiscence with the history he knows so well…his book sheds brilliant light on a proud people."
Allan E. Levine, Ottawa Citizen
 "One of Wright's many achievements is to arouse in his readers a sense of political rage without inducing cynicism and despair. He manages this delicate feat by juxtaposing recent events with stories from Mexican and Guatemalan history, and from the pre-Conquest period of Mayan life –as well as by means of some wry, deprecating anecdotes about his own travels. To read this book is to swim through several different times."
Mark Abley, Montreal Gazette
"Wright deftly weaves the past into the present in a fascinating tale of Mayan endurance in the face of Spanish conquistadores and modern death squads."
Nick Rogers, Maclean's
"Fine research and descriptive powers."
New York Times Book Review
Publishers: Eland Books (UK 2020), Penguin Canada, Grove Atlantic (USA)