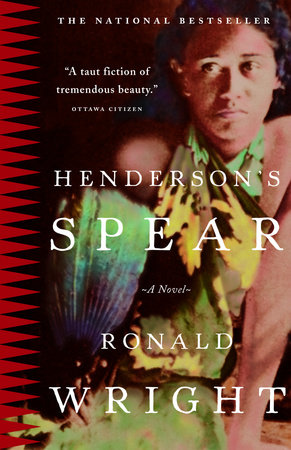 Searching the Pacific for her father, a pilot missing since the Korean War, Olivia lands in a Tahitian jail on a trumped-up murder charge.
Piecing together her troubled past and her family's buried history for the daughter she gave up at birth, Olivia unearths the story of her ancestor Frank Henderson, who came to these waters a century before on a three-year voyage with Queen Victoria's grandsons—Prince George (later George V) and his elder brother, Prince Eddy, who would die young and disgraced.
Frank's diaries show he believed something he witnessed in the South Seas may have put his life in danger; now his long-ago revelations lead Olivia to understand her father's disappearance and her mother's secrecy about the past.  A moving story of family and state secrets, Henderson's Spear explores the forces of history and the accidents of love.
.
"An unforgettable novel, meant to be read again and again in disbelief and understanding."
USA Today
"A boldly imagined novel that revels in vivid description and a lean, muscular prose… A class act."
Newsday
"Henderson's Spear serves history and fiction with equal aplomb, and they are blended as finely as one could wish.  This is a thought-provoking and well-wrought novel whose characters and situations lodge in the mind."
Los Angeles Times
"A powerful evocation of the Pacific world."
Adam Lively, Sunday Times 
"An intriguing, warm-toned, well-written, and spirited novel, a credit to its tradition."
John Spurling, Times Literary Supplement
"Smart and engaging and ambitiously wide-ranging…. Wright's impressive research…lively prose, and the plot's narrative drive make Henderson's Spear a richly textured, absorbing novel."
Kate Washington, Washington Post
"Vividly elegiac in style and enveloping in its mystery."
Kirkus Reviews
"Strong and lyrical… An outstanding novel by any measure."
Booklist (starred review)
"Perhaps the greatest achievement of this novel is the way it reads as something intimate, notwithstanding the grandeur of its scope."
Mary Ambrose, Boston Globe
"Wright has written a Gauguin canvas and a volcanic tremor of a novel… A compelling tale of history, mystery, and romance in the tradition of Melville, R.L. Stevenson [and] Conrad. "
Toronto Star
"A taut fiction of tremendous beauty."
Ottawa Citizen  

Publishers in English: Henry Holt (USA); Knopf Canada; Doubleday (UK & Australia)
Translations: French, German, Portuguese.